Most Expensive Cars In The World
Nowadays, driving a car go to work or go to school is a common thing, but the most expensive car is the symbol of wealth. Do you know what is the most expensive car in the world? How much is the most expensive car? Here is our list of the world's most expensive cars.
1. Bugatti Veyron Super Sports $2,400,000. This is by far the most expensive street legal production car available on the market today (the base Veyron costs $1,700,000). It is the fastest accelerating car reaching 0-60 in 2.5 seconds. It is also the fastest street legal car when tested again on July 10, 2010 with the 2010 Super Sport Version reaching a top speed of 267 mph. When competing against the Bugatti Veyron, you better be prepared!
2. Aston Martin One-77 $1,850,000. The name "One-77" says it all: beauty and power in One, limited to 77 units. With 750 hp, it is able to travel from 0 to 60 mph in 3.4 seconds and reaching a maximum speed of 220 mph.
2. Pagani Zonda Clinque Roadster $1,850,000. One of the most exotic cars out there is also one of the most expensive. It can go from 0-60 in 3.4 seconds with a top speed of 217 mph.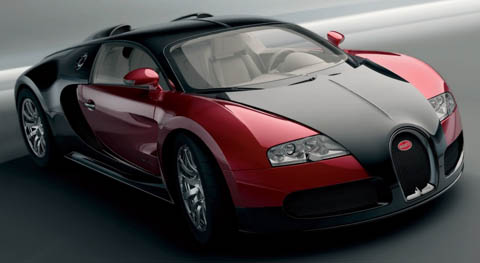 3. Lamborghini Reventon $1,600,000. The most powerful and the most expensive Lamborghini ever built is the third on the list. It takes 3.3 seconds to reach 60 mph and it has a top speed of 211 mph. Its rarity and slick design are the reasons why it is so expensive.
3. Koenigsegg Agera R $1,600,000. The Agera R can burn 0-60 in 2.8 seconds, reaching a maximum speed of 260 mph. It has the parts to reach 270 mph, but the supercar is electronically capped at 235 mph. With the completion of certain paperwork, the company will unlock the speed limit for one occasion.
4. Maybach Landaulet $1,380,000. The Landaulet is the most expensive sedan on the market and it can reach from 0-60 in 5.2 seconds. Probably the most luxurious car ever made with a convertible roof that can open fully at the rear. This car is made especially for those CEOs and Executives who have their own personal driver.
5. Zenvo ST1 $1,225,000. Able to reach 60 mph in 2.9 seconds and a top speed of 233 mph. The Zenvo ST1 is from a new Danish supercar company that will compete to be the best in speed and style. The ST1 is limited to 15 units and the company even promised "flying doctors" to keep your car running.
It's surprising to see the prices of these expensive cars. And it seems to be a unrealizable dream for most people to afford one.
(Resource: thesupercars.org, reprinted by www.thepandacover.com that you may select a car cover to protect your car from dirty.)